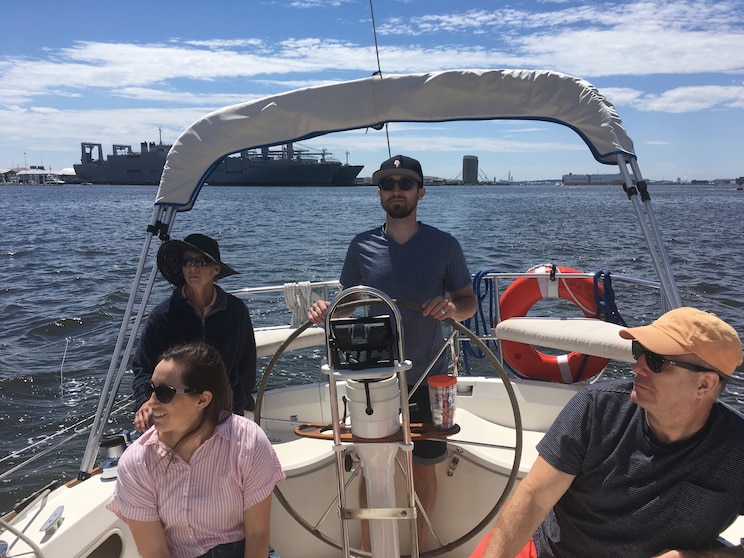 Six-hour Hands-on Sailing Basics Lesson
Six-hour Hands-on Sailing Basics Lesson
Our Sailing Basics class picks up from our Introduction to Sailing and will give you the basic sailing skills. We will spend additional time on rigging and tacking, and move on to cover jibing, sail trim, sailing upwind and downwind, and collision avoidance rules. We will spend a short period of time on the boat…
حجم المجموعة
ما يصل إلى 5 أشخاص

We provide our beautiful Sabre 36 sailboat as well as all required safety equipment.
I am the founder and director of SeaAffinity, Inc, a Baltimore based non-profit that combines my two passions of sailing and helping people learn. My wife, Suzanne, and I learned to sail over 20 years ago, on small boats. Since then, we have owned and sailed close to 50 different boats of all sizes in the Chesapeake and the Caribbean, and delivered sailboats on the east coast. I am certified as a US Sailing Instructor, Instructor Trainer, and Master Instructor Trainer, and a member of US Sailing's National Faculty, the group that develops and writes US Sailing's training materials.
Our Mission: Challenging youth and adults, including those impacted by disabilities, to develop life skills and realize their potential through water related experiences. Our lessons and sailing outings directly fund our non-profit outreach programs.
هذه تجربة تأثير اجتماعي حيث يذهب ما تدفعه بالكامل في هذه التجربة إلى SeaAffinity, Inc.
We leave from the Canton area of Baltimore and out into the harbor and Patapsco River on our 36' Sabre sailboat. We'll sail past Ft McHenry and the industrial area of Baltimore. The Patapsco river gives us plenty of room for hands-on training.
يمكن إلغاء أي تجربة سفر واسترداد المبلغ المدفوع كاملًا خلال 24 ساعة من الشراء.
إتمام التواصل من خلال Airbnb فقط. لحماية دفعتك، لا تقم أبدًا بتحويل الأموال أو التّواصل خارج موقع أو تطبيق Airbnb.
يستطيع ما يصل إلى 5 ضيوف بعمر 18 وأكبر الحضور.
This course builds on the skills learned in our Introduction to Sailing Experience. While that class is not required, we want you to have some degree of experience with sailboats.
درس الإبحار
Six-hour Hands-on Sailing Basics Lesson
تجربة سفر جديدة