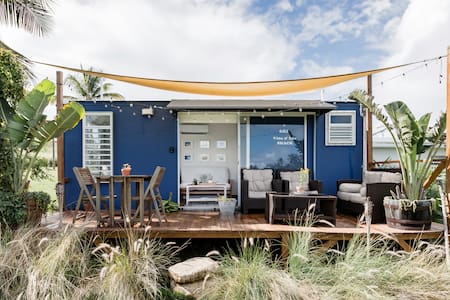 PLUS
بيت ضيافة كامل · 4 ضيوف · سريرين 2 · حمام واحد
Experience Tropical Camping at a Cabin Close to the Ocean
Walk through a jungle-like secret path to a quiet beach from this tropical cabin. Surrounded by tropical palm trees, this space provides the feel of camping out, and features modern comforts. Sit outside at night to take in the view of the night sky.
Nuestra acogedora casa de playa está ubicada en el barrio Islote de Arecibo y cuenta con una Grandiosa vista al mar. Nuestra intención como hospedero es que usted tenga las mejores vacaciones en un ambiente tranquilo y de relajación. Desde que abre los ojos usted puede observar el mar desde la habitación, usted podrá disfrutar de hermosas playas, gastronomía y lugares históricos. Arecibo cuenta con el radiotelescopio más grande del mundo. Nuestra hermosa casa de playa está a 3 minutos en carro de la famosa estatua de colon y a 2 minutos de cueva del indio. Es famoso por sus playas para practicar el surfing o disfrutar de pequeñas pozas de agua Para la familia. En Villa Cecilia usted tendrá una experiencia única; totalmente equipada ya que cuenta con piscina, terraza con jacuzzi y bbq. Los tres cuartos cuentan con A/C y camas Queen, 1 baño, cocina equipada, comedor y sala. Our cozy beach house is located in the Islote neighborhood of Arecibo and has a great view of the sea. Our intention as a host is that you have the best vacations in a calm and relaxing environment. Since you open your eyes you can observe the sea from the room, you can enjoy our beautiful beaches, gastronomy and historical places. Arecibo has the largest radio telescope in the world. Our beautiful beach house is 3 minutes by car from the famous Colón statue and 2 minutes from the Indian cave which It's famous for its surfing beaches or small pools of water for the family. At Villa Cecilia you will have a unique experience; fully equipped as it has a pool, terrace with jacuzzi and bbq. The three rooms have A / C and Queen beds, 1 bathroom, kitchen
A great destination for surfers, families and romantic-minded vacationers alike, meant for relaxing by the beach. Come visit and take it Des-Pa-Cito! Villa Despacito provides its guests an exceptional setting and a truly Caribbean coastal vacation experience. It is tastefully decorated. Living room and all three (03) bedrooms have air-conditioning. Lounge at the outdoor deck during sunset or fire up the grill. Take in the ocean view while relaxing at the pool.